We have published 3 papers that provide evidence why umbilical cord clamping should be delayed for 3 minutes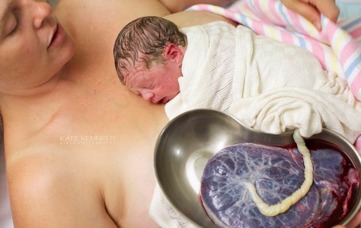 In our latest study, published January 17th,
we randomized 540 children, born at a large obstetrical hospital in Kathmandu, Nepal, to early (≤ 60 seconds) or delayed cord clamping (≥180 seconds). In Nepal, approximately 70 % of infants up to one year of age have anemia. Follow-up included blood samples at 8 and 12 months of age, to evaluate anemia (hemoglobin) and iron deficiency (ferritin).

What did we find?
At the age of 8 months the incidence of anemia was reduced by 9% among the Nepalese infants and still at 12 months of age 8% fewer infants were anemic. The children in the delayed cord clamping group generally had higher hemoglobin values, and the percentage of children who had iron deficiency at 8 months of age decreased significantly, more than 40%.
Do you want a free Fact sheet on our latest study?
Click on the button below and sign up for our newsletter. Then you'll recieve a link for the fact sheet summorizing our findings concerning delayed cord clamping and anemia.
Continue reading »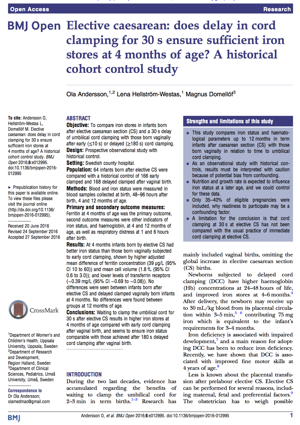 A delay of umbilical cord clamping by 30 seconds at elective cesarean section results in the similar iron stores as after 3 minutes delay of cord clamping in vaginally born infants, and provides better iron stores than immediate cord clamping in vaginally born infants.

In November 2nd, BMJ Open published our paper: 'Elective caesarean: does delay in cord clamping for 30 s ensure sufficient iron stores at 4 months of age? A historical cohort control study'

In this study we compared iron stores at 4 and 12 months of age in infants born after elective cesarean section with their umbilical cords clamped after 30 seconds with infants born vaginally and who either had their cord clamped immediately or after 3 minutes.

This was actually not what we had expected. Earlier research had implied that the placental transfusion after elective cesarean was rather small and should render similar iron stores as the immediately clamped vaginally born infants. This may likely be the case if the cord also is clamped immediately after CS. What was also quite surprising was that the placental transfusion seems to happen faster after CS than after vaginally birth, as 30 seconds after CS was comparable with 3 minutes after vaginally birth. This might be explained by the fact that babies born vaginally are under a normal strain and have higher blood pressure than babies after CS.

The paper can be read here: Andersson O, Hellström-Westas L, Domellöf M. Elective caesarean: does delay in cord clamping for 30 s ensure sufficient iron stores at 4 months of age? A historical cohort control study. BMJ Open 2016;6:e012995. doi: 10.1136/bmjopen-2016-012995

http://dx.doi.org/10.1136/bmjopen-2016-012995
Continue reading »